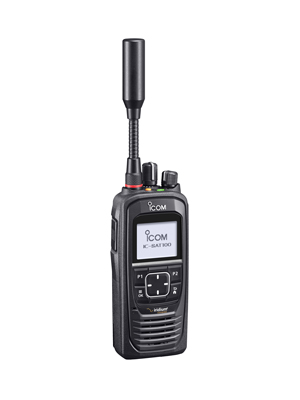 SATELLITE PTT (Push-To-Talk) is a two-way radio system that uses the Iridium® satellite network. It can be used as a communication tool in remote, isolated areas where there are no mobile phones or landline network infrastructure. Even if terrestrial network infrastructure is rendered unusable by human or natural disasters, SATELLITE PTT can provide a stable back-up, independent from other networks.
Download Datasheet
One-to-Many Communications
Unlike satellite phones, IC-SAT100 users can immediately start talking to all the radios in the same talkgroup, with just a push of the transmit (PTT) button.
For a full range of accessories call us on +44 (0) 1224 775717
CONTACT US
Wide Area Global Communications
Real-Time, Low-Latency Communication.
Built-in Emergency Key
Waterproof, Dust-tight and Durable Body
In-Vehicle or In-Building Use
Private Conversations
1500 mW powerful audio
14.5 hours of long-lasting battery life
Short Data Message function
Voice Recording function
Multiple language display (English, Chinese, French, Japanese, and Spanish)
Bluetooth® capability
Integrated GPS receiver shows a received position information on the display
SMA type antenna connector for an external antenna
AquaQuake™ function clears any water ingress that may penetrate the speaker grill of the unit
USB charging (USB Micro-B type)