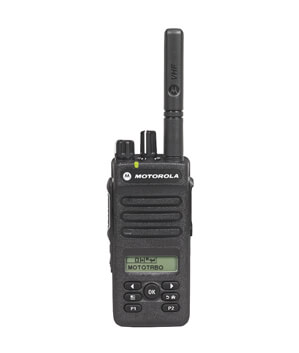 With this dynamic evolution of MOTOTRBO digital two-way radios, you're better connected, safer and more efficient. The DP2000e Series is designed for the everyday worker who needs effective communications.
With systems support and loud, clear audio, these next-generation radios deliver cost effective connectivity to your organisation.
Download Datasheet
WHAT'S NEW IN THESE NEXT GENERATION RADIOS
Enhanced audio quality
Improved expandability
Better battery life (up to
28 hours)
Better range (up to 8%)
Better waterproofing
(IP67)
TIA4950 certified HazLoc
models available
For a full range of accessories call us on +44 (0) 1224 775717
CONTACT US
YOU'RE MORE PRODUCTIVE, CONNECTED
CONNECTED
The MOTOTRBO DP2000e Series is a family of ETSI DMR Standards compliant digital radios that delivers operation critical voice communications. With a single button push, workers can communicate for greater efficiency and enhanced safety. With support for basic trunking as well as legacy analogue technology, you can keep your organisation connected as it grows.
SAFE
The DP2000e Series is designed to improve safety in your organisation, with the rapid response capability of instantaneous push-to-talk communications. Even if a worker is unresponsive, you can remotely activate the radio to check that your worker is safe. Privacy options are available to prevent others listening in on your communications, and radios can be remotely disabled if they are misplaced or stolen. New TIA4950 certified models are available for use in hazardous locations where flammable or explosive materials are present.
EFFICIENT
With new noise cancellation technology and enhanced clarity, the DP2000e Series delivers excellent audio quality to make your workplace communications clearly intelligible. The latest energy technology delivers up to 28 hours of battery life for 3-shift working, and the optional IMPRES Over-the-Air Battery Management tool helps you maximise battery lifetime. An improved receiver boosts range by up to 8%, allowing you to reach further than ever.