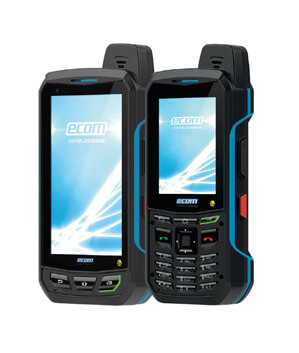 Industry 4.0 and IIoT create unique opportunities and challenges. ecom from Pepperl+Fuchs offers mobile solutions to help users master the requirements of networked operating and production processes.
The whole is more than the sum of its parts. Processes can only run smoothly when the individual elements of a digitised solution are coordinated and users can exploit their full potential.
ecom – Experts in Mobile Computing and Communication
Pepperl+Fuchs – A Partner to the Automation Industry
Download Datasheet
Intrinsically safe Smartphone Smart-Ex® 01 and Featurephone Ex-Handy 09
Companies are aware of the capability of mobility solutions and the impact they can have on operations, reducing cost and improving efficiency. Game changing new devices are enabling break-throughs in workforce productivity, data quality and the speed and accuracy of decision making.
For a full range of accessories call us on +44 (0) 1224 775717
CONTACT US
Connectivity – fast and flexible
As private 4G / LTE wireless connectivity is increasingly adopted within hazardous areas, Tab-Ex® 01 ensures access is fast and seamless – enabling users to quickly access the information needed to perform the task at hand. And, for sites with WiFi access or no wireless access, Tab-Ex® 01 provides the flexibility to meet your needs – preventing costly infrastructure updates.
ecom's Mobile Worker Concept
Central to ecom´s Mobile Worker concept, up-to-date Bluetooth standards are also supported by Tab-Ex® 01, allowing real-time connectivity to both Bluetooth SmartReady Low Energy 4.0 (BLE) devices as well as older legacy Bluetooth devices.
This allows the mobile worker to benefit from expanded Tab-Ex® 01 capabilities such as data collection and measuring/monitoring devices, headsets, AutoID, and Bluetooth Beacons for localisation.
Lone Worker Protection (LWP)
LWP ready for Mobile Worker 4.0
Easy to integrate in many partner server systems
Location based services are available
Interactions with different Applications at the same time run smoothly
OTA upgrades running well – not only for LWP
Data interaction between control center and end-user is possible
Smart-Ex® 01/01 M/201 & Ex-Handy 09/209
The LWP Application is running beside the operating system
The use of Android Apps reduces costs
Quad core processor divides all services
In case of a processor malfunction, 3 backup processors ensure that all services are available instantly