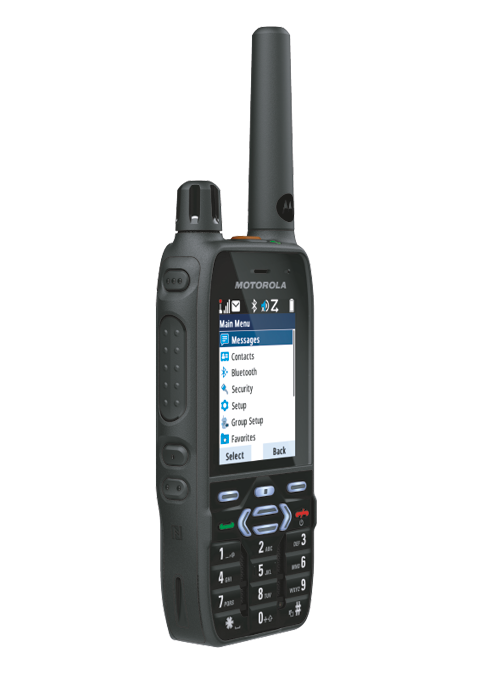 Front line safety, today and tomorrow.
Being on the front line is tough. Who knows what the day will bring, and what conditions your people will face? The right radio can make all the difference.
We've listened to what frontline workers want and built the MXP600 for them: a rugged and lightweight yet fully capable TETRA portable radio. The MXP600 is easy to carry and easy to use. It has innovative audio technology so they can hear and be heard. It delivers best-in-class coverage with the option for Class 3 transmission power. Its rugged design copes with extreme environments, and its extended battery life outlasts a shift.
Bluetooth 5.0 and NFC enable rich collaboration, providing a leading-edge user experience today and ready for mission-critical communications tomorrow. Over-The-Air-Programming and Over-The-Air Updates help keep your radios up to date and reduce expensive and time-consuming radio management chores to become lightning fast and cost effective.
The MXP600 is a radio that gives your frontline staff the confidence to focus and efficiently and effectively get the job done.
Download Datasheet
THE BASIC PACKAGE INCLUDES
Radio
Battery
Configured to suit
Accessories available, call us on +44 (0) 1224 775717
CONTACT US
Rugged and dependable
Small and light
Easy to carry and easy to wear
Easy to use
High receiver sensitivity
Class 3 transmission power option
Loud and clear audio
Adaptive Multi-Microphone Beam-Forming Noise Suppression
Adaptive Wind Noise Mitigation
Automatic Howling Suppression
Supports GPS, Beidou, Galileo and GLONASS
Dedicated emergency button
Long battery life
Compact wired accessory connector
Secure communications
Large 2.4 inch colour screen
Bluetooth 5.0
Integrated NFC
Hardware ready for High Definition (HD) voice
Wi-Fi 2.4GHz and 5GHz
TETRA Over-The-Air Programming
Wi-Fi Over-The-Air Programming and firmware updates