SLIM PORTABLE TWO-WAY RADIO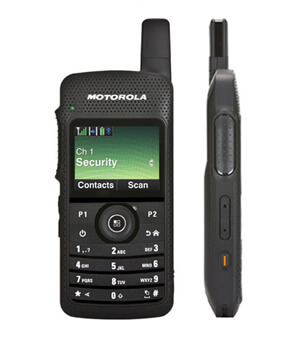 The SL4000e Series is designed for the manager who needs complete control. With a slim and light form factor incorporating high performance integrated voice and data, these next-generation radios deliver smart connectivity to your organisation.
The SL4000e features a large, high-definition, 5 line, colour display screen and intelligent audio that automatically adjusts the radio volume according to the environment's noise level. Covert mode is available for discrete operation when it counts and integrated man-down, Wi-Fi and indoor location tracking can be activated by license keys.
Download Datasheet
VIEW ACCESSORIES
THE BASIC PACKAGE INCLUDES
Li-Ion Battery
Charger option
Antenna Option
Carry Holster
In-box Documentation (QRG option, Safety, RTTE Leaflet)
For a full range of accessories call us on +44 (0) 1224 775717
CONTACT US
Slim, sleek design – dimensions 121x55x17.4mm
UHF1 (403-470MHz); 3W; IP54 rated
Up to 1000 channels
Dual internal speakers deliver loud, clear audio quality
Tri-colour LED indicator for clear, visible feedback of calling, scanning, roaming and monitoring features.
Contoured push-to-talk button provides comfort and is easy to access
4-way navigation disc for easy scrolling through menus and channels
2 programmable option buttons for quick access to frequently used features; ability to program up to 9 of your favorite features into a single programmable button
Roman and Hebrew keypad options
Basic / Enhanced Privacy
AES256 Encryption via Software Purchase
Integrated Bluetooth 4.0 LE for wireless and data
Integrated Wi-Fi (OTA Software Updates and ADK) via Software Purchase
Audio connector port supports discreet wired audio accessories (wireless Bluetooth audio also available)
Built-in photo sensor intuitively adjusts backlighting on the screen to optimize viewing in all types of conditions, special "day/night mode" changes screen and illuminates icons to make them clear and readable in varying light conditions
Large, high-definition, 5 line, colour display offers high clarity and resolution
Intelligent Audio feature automatically adjusts the radio volume according to the environment's noise level
Innovative antenna design optimises range performance (3 variations depending on frequency required)
Covert mode for discrete operation when it counts
SL4010e models have an integrated option board
Integrated man-down via Software Purchase
Indoor Location Tracking via Software Purchase
Direct Mode (including Dual Capacity Direct Mode)
IP Site Connect (Single and Multi-Site)
Capacity Plus (Single and Multi-Site)
Capacity Max via Software Purchase
Connect Plus via Software Purchase
Memory enhancement (128MB RAM & 256MB Flash memory)