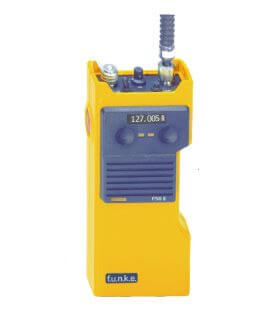 The FSG8 is the successor of the wellknown "yellow briquettes" FSG4 and FSG5 and complies with the reduced channel separation of 8.33 kHz .
The FSG8 has the same housing as its predecessor and is therefore just as robust.
The device is technically based on the ATR833S or Mk-II development, but has been thoroughly redesigned to meet the requirements for a full certification as a ground station
The FSG8's intelligent power management reduces standby power consumption to an absolute minimum.
For a full range of Accessories please contact us.
Download Datasheet
THE BASIC PACKAGE INCLUDES
For a full range of accessories call us on +44 (0) 1224 775717
CONTACT US
TECHNICAL DATA
VHF/AM handheld transceiver for ATC
25kHz / 8,33 kHz channel separation
760 / 2278 channels selectable
Transmit power 1.5 Watt / 5.0 Watt PEP
Certification for ground operation
acc. to ETSI EN 300676-2*
TNC connector for remote antenna
Extreme robust aluminum die-cast housing
Side-tone via headphone
Battery indicator
Via accessory jack:
Connection of battery charger,
external 12 V DC supply,
protected 12 Vdc output for special accessory,
additional dyn. microphone 5 to 200 Ω, additional
ear/ headphone min. 30 Ω,
external PTT key
Numerous accessories: external microphone,
carrying case, charger, 12 VDC supply cable
FREQUENCY RANGE
118,000 … 136,975 MHz
CHANNEL SPACING – 25 kHz / 8.33 kHz
NUMBER OF CHANNELS – 760 (25 kHz) / 2278 (8,33 kHz)
FREQUENCY ACCURACY – ≤ ± 1 ppm
RF CARRIER OUTPUT – 1,5 Watt / 50 Ω (5,0W PEP) @ 12V typ.
AF OUTPUT POWER – 0,7 Watt / 8Ω @ 12V
SENSITIVITY – < -101 dBm
AGC RANGE – ≤ 6 dB/10 μV … 10 mV
BUILT-IN BATTERY – NiMH-Akku 12 V / 1,5 Ah nominal
CHARGING VOLTAGE – 15,0 … 20,0 VDC @ 250 mA
OPERATING TEMPERATURE – typ. -20°C … +50°C
DIMENSIONS (WITHOUT ANTENNA) – 209 × 84 × 44,5 mm
WEIGHT – ca. 900 g / 2 lbs
CERTIFICATION (IN PROGRESS)  – ETSI EN 300676*