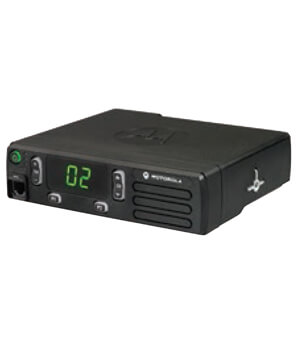 Your people are on the move, delivering cargo, picking up consignments, driving passengers to their destinations. You need to keep them in touch and on track efficiently. And you want to make sure the radios they use are as affordable and adaptable as possible.
Now there are flexible mobiles that give you great voice communications today, and a path to crisp and clear digital voice communications when you're ready. Versatile and powerful, MOTOTRBO combines the best of two-way radio functionality with the latest analogue and digital technology. The MOTOTRBO portfolio offers the right device for the right user, from voice-only portables to feature rich voice and data radios.
Download Datasheet
Analogue / Digital
Voice Communications
Dual Capacity Direct Mode
Numeric Display (DM1400)
Alphanumeric Display (DM1600)
Digital Mobile Radio (DMR) Standards Compliant
Transmit Interrupt (Decode Only)
Basic Privacy
Voice Announcement
IP54 Rated
Radio Management Suite Compatible
For a full range of accessories call us on +44 (0) 1224 775717
CONTACT US
The rugged MOTOTRBO DM1400 and DM1600 are available as analogue/digital mobile radios that offer all the benefits of the latest technology – from superior audio to greater coverage. These affordable performers are compatible with advanced MOTOTRBO features you'll find are business-essential, for example a transmission can be interrupted to prioritise critical communications. You can also choose the analogue-only models of the DM1400 and DM1600, and unlock the capabilities of digital when the time is right: all you will need is a simple software upgrade. And whichever model you choose, the DM1400 and DM1600 will work seamlessly with the radios you have today.
With its bright, high contrast alphanumeric screen, the DM1600 allows drivers to see important information such as caller ID at a glance. The DM1400 offers lower channel capacity and a simpler numeric display. The DM1400 and DM1600 are so easy to use and deliver such clear voice communications, you'll be amazed how efficient your operation can be.