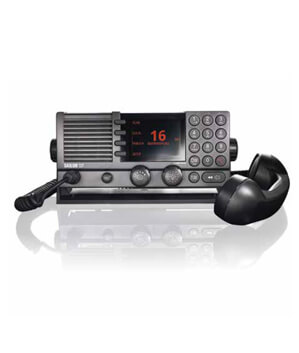 SAILOR 6248 VHF continues the SAILOR tradition of setting new standards for VHF design.
A vital and reliable tool for daily operation, it has been developed for the harsh maritime environment as a part of the SAILOR 6000 series. It is based on the same foundation of high reliability, ease-of-use and leading-edge functionality that has positioned SAILOR as the front runner in maritime VHF radios.
Download Datasheet
High performance Rx/Tx
Powerful 6W loudspeaker
Professional, high-quality SAILOR Handsets
Intuitive and easy operation
High quality display – perfect night and day vision
Unique SAILOR Replay function – play back the last 240 sec.
Large tactile buttons and dials for easy operation
ThraneLINK for easy integration and maintenance
For a full range of accessories call us on +44 (0) 1224 775717
CONTACT US
More than a VHF
The SAILOR 6248 VHF is designed for all maritime work environments. In addition to the standard international maritime VHF channels, it also includes special channel tables for USA, Canada and BI (For inland Waterways) incl. ATIS and ATIS 'killer', and as standard up to 100 private channels (P/F/L). In addition to the standard SAILOR design and build quality, this makes it one of the most advanced, robust and powerful professional VHF radios available today. It is suited for a wide variety of maritime operational communications aboard fishing vessels, workboats and merchant and offshore ships.
Flexible Solution
A broad portfolio of high quality accessories is available for the SAILOR 6248 VHF, which improves its installation flexibility and operational scope. Handsets, Hand Microphones and the SAILOR 6204 Control Speaker Microphone for remote operation as well as external loudspeakers enable multiple users in different locations to utilise this high performance VHF.