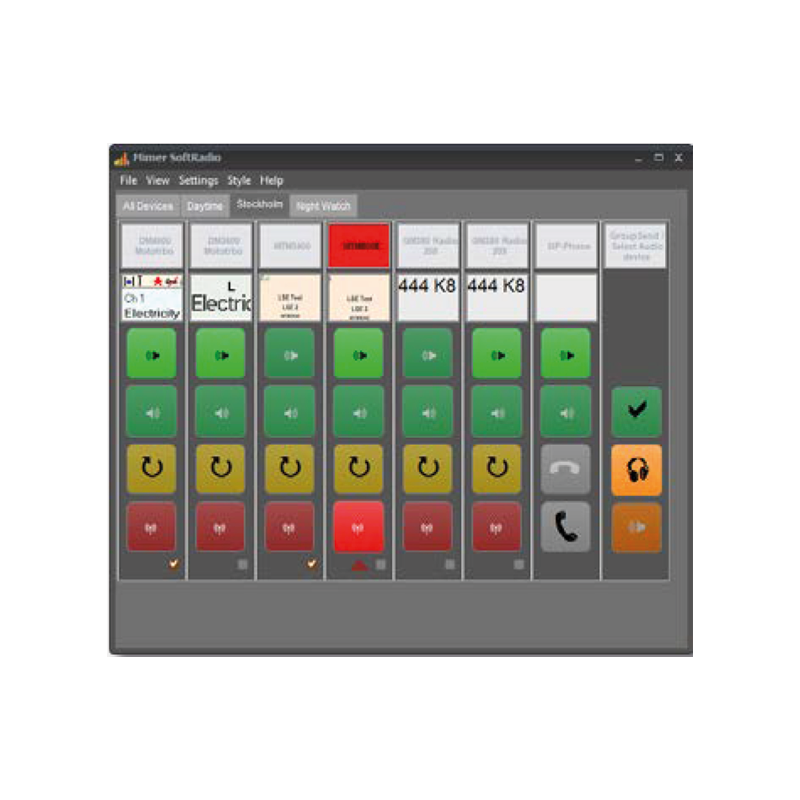 Remote control your Motorola two way radio with VoIP audio.
Mimer SoftRadio is a system to remote control two way radios over LAN, WAN or the Internet. The operator uses a standard Windows PC and standard audio accessories.
Each operator can handle many radios and each radio can be remote controlled by many operators. Through the use of Virtual Control Heads, the remote control of many radio types includes not only audio and PTT functions, but also channel change, text messaging and more. Optionally all audio can be recorded and calls can be cross patched between radio systems. Also phones and intercoms can be operated from the same PC.
The system allows for mixing of radio types at the same operator, so that analogue radios (e.g. Marine and Airband) and digital radios (e.g. DMR and Tetra) can be controlled.
Download Datasheet
THE BASIC PACKAGE INCLUDES
Mimer Interface
Software
Power Supply Unit
3U Enclosure
Motorola Mobile Radio
Can be configured with different options to suit
Accessories available, call us on +44 (0) 1224 775717
CONTACT US
Mimer SoftRadio is used in over 50 countries around the globe. At the moment available in nine languages.
Users around the globe:
Airports & Airlines
Airports are heavy users of two way radio. They have several radio systems to handle, both for ground traffic and for air traffic.
Transport / Taxi Dispatch
In earlier days each small town had their own taxi company working locally with their own radio system. Today the companies are brought together working through one big dispatch centre. The dispatchers needs to reach cars in a large area covering many towns.
Petrochemical Industry
Large industries often have many hundreds of portable radios. They use old analogue and modern DMR or Tetra networks plus cooperation with ships over marine radio and fire departments over a public safety net. All of the systems can be handled from the same Mimer SoftRadio dispatcher.
Command & Control Vehicles
Both police and fire departments have command and control vehicles that works close to an incident site. In the vehicles there is a heavy use of radio communication as well as phones, intercom and more. By using Mimer SoftRadio the operators can have the same headset and the same touch screen for all communications.
Public Safety
Harbours/Rivers
Coast Guard
Industry
Wind Power farms
Security
With all options and extras there is a solution for almost every radio user.