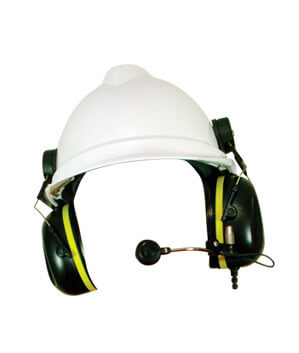 ATEX approved heavy duty headset and press-to-talk adaptor for use in the most demanding environments. Manufactured in Norway in close collaboration with end-users, using the latest technology to ensure excellent hearing protection and communication are combined with high durability to meet the demands of extreme environments.
ATEX Headset & PTT Switches Working in environments such as offshore exploration and Petro-chemical industries demands tough, rugged, intrinsically safe communications products. Good communication is vital to ensure good workplace safety and downtime is reduced.
The A-KABEL ATEX headsets & PTT's are built to withstand the demands of these extreme environments.
Download Datasheet
DP4400 ATEX (AK6760M) Requires MOLEX adaptor PMLN6047
MOTOROLA DP4000 SERIES NON-ATEX (AK6760)
MOTOROLA GP340 ATEX (AK6612, AK6612WA)
GP900, MT2100, MTS2000 (AK6053)
MX1000 ATEX (AK5833)
NIROS 1012 ATEX (ERICSSON P50)(AK6398)
ICOM F51/61 ATEX (AK6613W)
For a full range of accessories call us on +44 (0) 1224 775717
CONTACT US
ATEX approved by Nemko
All metal parts are stainless steel for
increased durability
The headsets are manufactured in modules so every component can be easily replaced 
All cables are manufactured for long life. The coiled leads are tested for 1,000,000 flexions
External cables and connectors have moulded waterproof strain reliefs
Spare parts are available from stock for reduced downtime 
Quick positioning noise cancelling boom
microphone for ease of use
Noise cancelling microphone filters out background noise allowing clear speech transmission
PTT's have rugged stainless steel crocodile clips for easy attachment to clothing 
VOX Capability
Transmit Interrupt
Lone Worker
5 Tone Signaling
Option Board Capability
Intelligent Audio allowing the radio volume to automatically adjust to compensate for background noise
IP68
TIA4950 HazLoc certification options (with TIA battery option)
Direct Mode (including Dual Capacity Direct Mode)
IP Site Connect (Single and Multi-Site)
Capacity Plus (Single and Multi-Site)
Capacity Max via Software Purchase
Connect Plus via Hardware and Software Purchase
Memory (128MB RAM & 256MB Flash memory)
Support for vibrating belt clip