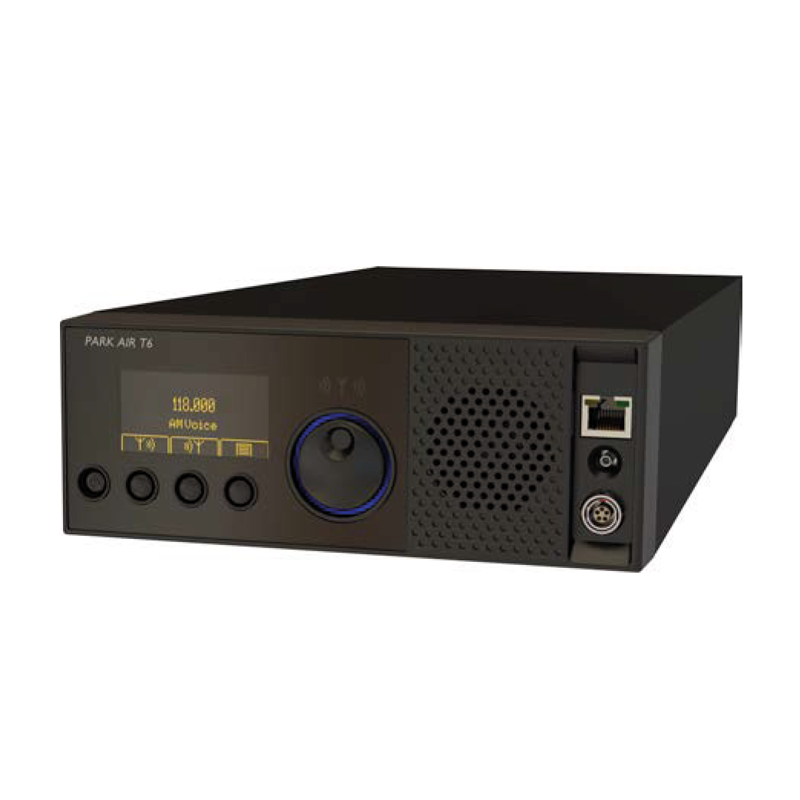 VHF Software Defined Radios
The T6 Radio is the latest evolution in the Park Air range of professional ground to air ATC radios. It sets new standards for providing high levels of safety, efficiency and performance in a compact unit. Scalable, flexible and secure, the T6 Radio ensures robust and future-proof voice and data communications for years to come.
The Park Air Sapphire portfolio contains a full range of T6 VHF Transmitters, Receivers and Transceivers for both civil and military settings. Each model has all of the features expected from a professional ATC voice and data radio. The T6 Radio range has the flexibility to operate in any ATC scenario. This includes country wide networks, international airports and regional airports.
All of this is integrated into the smallest, lightest package Park Air has ever produced.
Download Datasheet
THE BASIC PACKAGE INCLUDES
Transceiver
Configured to suit needs
Call us on +44 (0) 1224 775717
CONTACT US
EXCELLENT RF PERFORMANCE
Small Installations
The RF performance of the T6 radio allows installation in congested RF environments with the use of fewer and smaller RF ancillaries.
Strong interference immunity
Strong or nearby transmissions and noise have much less effect on the reception of distant or weak signals than in other systems. This allows transmit and receive sites to be installed closer together.
Continuous operation
The T6 radio allows continuous transmission even when switching between AC and DC power sources. This maintains availability where power supplies are less stable.
UNRIVALLED CONNECTIVITY
Multiple ground network interfaces
Analogue, E1 and IP networks can all connect and operate with a single radio simultaneously for redundancy of telecoms networks. This also assists in the staged transition of systems between digital IP and E1 or analogue systems.
Flexible Configuration
Three independently addressable Ethernet ports are available. Two on the rear for network connectivity and one on the front for easy access to the built-in maintenance web interface.
Interoperability
The T6 Radio is regularly tested against multiple VCS and recorder products. This provides reassurance that the T6 Radio will offer interoperability above and beyond international standards.
MARKET LEADING SAFETY & SECURITY
Secure remote configuration and update
The T6 radio provides remote configuration, monitoring and updates over universal standard HTTPS and SNMP V3 protocols.
Configurable access
The T6 Radio provides fully configurable access control to services from each port. This allows the Radio to be configured to match your network security philosophy.
Access whitelisting
Access to interfaces is whitelisted according to URI. This prevents unauthorised or accidental audio control of a radio from equipment that has not been pre-configured.
Flexible main/standby features
Including integral RF/line changeover and interfaces for external changeover for high availability applications.
Intelligent built-in-test
The T6 radio continually monitors its environment and performance. If an issue is detected but operation is still possible, the radio enters a 'reduced service' state and alerts the operator with diagnostic information to prevent a loss of service.
MINIMISED WHOLE LIFE COSTS
Low operating costs
Lower equipment room running costs are provided by our most efficient radio and reduced thermal output from the system.
Low maintenance costs
Reduced frequency of preventative maintenance visits, full feature monitoring and control, and remote software updating lead to lower maintenance costs.
Low transport costs
Maintenance equipment and personnel transport costs are reduced due to fewer site visits and the small size and weight of Sapphire equipment.
Simple fault diagnostics
Maintenance visits require less time due to an equipment MTTR of less than 15 minutes and ease of fault diagnosis using the radio BIT function.
EXCELLENT ENVIRONMENTAL PERFORMANCE
Low manufacturing environmental impact
By manufacturing to ISO 14001 standards and removing the need for components containing RoHS listed substances Park Air products have a low manufacturing and end of life carbon footprint.
Low shipping environmental impact
The environmental impact of shipping and installing Park Air products is minimised by selecting small and light products and using only biodegradable packing material.
Low operational environmental impact
When in operation a Park Air Sapphire system requires less power, cooling and site visits than other radio systems. This minimises the carbon footprint of site operations.