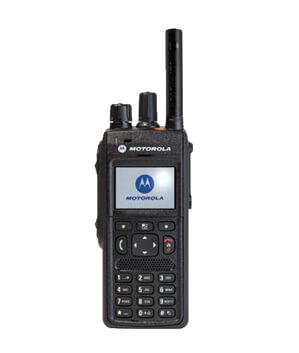 The MTP3000 Series radios are the result of more than 15 years of focus in TETRA on increasing user safety, enhancing efficiency and improving communications. The radios are packed with features which are essential for safe and effective operations, as well as significant improvements in areas such as audio and ruggedness.
The MTP3000 Series radios have all been enhanced with IP65, IP66 and IP67 for dust and water ingress protection, support for 450-470 MHz and 800 MHz
as well as an RFID hardware option.
The MTP3100 is the entry level radio packing in all the TETRA essentials and providing an easy transition from analogue to digital radio.
The MTP3250 now includes secure Bluetooth for users who require a feature rich TETRA radio.
The new MTP3500 and MTP3550 radios will further enhance the MTP3000 Series delivering a fully featured radio for mission critical users with the addition of new options, including a man down sensor, vibrate alert and End-to-End Encryption (E2EE).
Download Datasheet
STAY IN TOUCH
Be safer and more effective with greater coverage and in-building performance with high sensitivity and power
STAY SECURE
Be secure with Air Interface Encryption or End to-End
Encryption to prevent unauthorised access
HEAR AND BE HEARD
Outstanding audio means you can be safe and effective in the most noisy and difficult environments
ENHANCE YOUR SAFETY
Know that your workers are safe with man down
For a full range of accessories call us on +44 (0) 1224 775717
CONTACT US
SAFER
SUPERIOR AUDIO AND INCREASED RANGE
The MTP3000 Series is optimised for excellent audio performance in all types of noisy and demanding situations. Audio through both the speaker and accessories is clearer even at full volume, and the
user can be heard above loud background noise.
Hardware enabled End-to-End Encryption (E2EE) is the most secure method for preventing the interception of critical voice or data communications.
High receiver sensitivity and high transmit power gives the MTP3000 Series the capability to maintain communications in the most demanding situations at long range, in built up areas and in buildings.
The man down sensor detects whether a radio has been static for a preset time, or has tilted beyond a preset angle. Man down is of particular value for the protection of lone security personnel or mining workers operating in hazardous environments.
TOUGHER
DURABLE CONNECTORS AND RUGGED DESIGN
The MTP3000 Series is fitted with two new connectors to provide corrosion resistance, ruggedness, conductivity and low insertion resistance. The side connector has excellent pull strength. The bottom connector has a self cleaning mechanism to resist dust and dirt, is easy to clean, and is protected inside the radios.
With IP65, IP66 and IP67 these radios can withstand immersion in a metre of water for 30 minutes, or a high pressure water jet from a fire hose.
EASIER
INTUITIVE HARDWARE AND SOFTWARE FEATURES
The two knob interface will suit users migrating from an analogue radio. The wide transflective screen displays additional characters and is easy to see in both low light and direct sunlight.
Vibrate alert for incoming calls and messages will allow workers to stay covert or be discreet when silence matters.
The MTP3000 Series also come with optional colour identification bands around the antenna. This identifies the radio for user groups with different tasks, coverage area or shifts.