MOTOROLA DP4401EX ATEX RADIO
MOTORTRBO ATEX SOLUTIONS; THE PROFESSIONAL CHOICE FOR DANGEROUS AREAS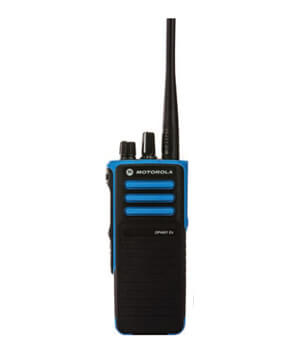 Threats from explosive gas, combustible dust or chemical vapours, from an oil rig to an open mine, your workers confront them daily. Safe, reliable communication is absolutely critical in such dangerous environments. That's where the power and performance of MOTOTRBO digital radios stand out.
The MOTOTRBO DP4000 Ex Series combines the best of two-way radio functionality with the latest digital technology. It integrates voice and data seamlessly, offers enhanced features that are easy to use, and delivers increased capacity to efficiently connect all your crews.
With exceptional voice quality, long battery life and ATEX-rated for safety, the DP4000 Ex Series keeps your workers connected safely and productively, wherever the job takes them.
Download Datasheet
Digital performance
Exceptional Audio
Easy to use
Complete ATEX-Certified solution
For a full range of accessories call us on +44 (0) 1224 775717
CONTACT US
SO RUGGED, IT WITHSTANDS
THE WORST
The DP4000 Ex Series is so rugged and durable, it meets the most stringent standards and has the highest ATEX rating. Whether working in an oil refinery, chemicals factory or mine, dust and water can damage radios, but the DP4000 Ex Series is designed to withstand the worst. It meets or exceeds MIL-STD-810 for exceptional durability and is IP67 rated* to keep out damaging water and dust. The design has also been subjected to Motorola's unique Accelerated Life Test to simulate five years of hard use.
EASY TO OPERATE
The DP4000 Ex Series features large PTT, volume, channel knobs and programmable buttons that are easy to use, even when wearing gloves. Plus the prominent orange emergency button enables workers to quickly call for assistance when needed.
KEEP CREWS COMMUNICATING,
EVERYWHERE
MOTOTRBO's IP Site Connect uses the Internet to extend coverage to workers anywhere in the world and scalable, single-site Capacity Plus expands capacity to over 1,000 users. Linked Capacity Plus combines the high user-density call management of Capacity Plus with the wide area coverage of IP Site Connect to connect crews at various locations affordably.
WORK SAFELY, FROM PIPELINE
TO POWER PLANT
Everything about the DP4000 Ex Series is designed for worker safety. Loud, clear performance and innovative features like Intelligent Audio and Transmit Interrupt help ensure messages get through in the noisiest environments. And like the radio, Motorola's audio and energy accessories meet the most stringent ATEX standards.
An integrated man-down and lone worker feature sends an instant alert if a mishap occurs. And the bright blue colour helps ensure workers can easily identify and carry only ATEX-approved radios into hazardous environments.