DIMETRA EXPRESS MTS4 TETRA SYSTEM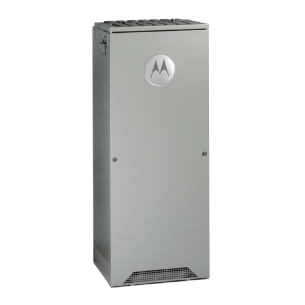 DIMETRA Express is a flexible TETRA system. By integrating the switch and base radios in a one-box or modular system it makes it quick and easy to set up, deploy, and manage your communications. Allowing you to simplify everyday operations whilst reducing costs and complexity over the long term.
You can quickly integrate DIMETRA Express into your network using a single IP address, provision multiple subscribers, and complete installation using web browser-based applications and tools. Once it's up and running, DIMETRA Express is easy to manage and operate through the simple web-based network management and dispatch applications.
DIMTERA Express offers the voice, short data, and telephony services your team's demand. And it's expandable to multiple sites, so it can grow as your business does.
Download Datasheet
THE BASIC PACKAGE INCLUDES
For a full range of accessories call us on +44 (0) 1224 775717
CONTACT US
Configurations:

DIMETRA Express MTS1 and Express Server: 1 – 2 Base Radios (4 – 8 Time Slots)

DIMETRA Express MTS2: 1 Base Radio (4 Time Slots)

DIMETRA Express MTS4: 1 – 3 Base Radios (4 – 12 Time Slots)

DIMETRA Express Standalone System

TETRA Voice Services, including Group, Individual and System Wide Calls
Packet Data and Multi Slot Packet Data (MSPD)
VoIP Telephony Interconnect
Analogue Gateway
Authentication
Air Interface Encryption (AIE)
Geographic Redundancy
Dispatch Console API
Voice Logging API
Air Traffic Information Access API
Web-Based Console Local Language Support
Web-Based Network Management :

Basic and Advanced view option

Real-Time System Health Monitor

Bulk loading of radio users and talkgroups

Web-Based Dispatch Console

Group PTT

Individual Call

Emergency Alarm

Text Messaging

Console Patching

Web-Based Radio Control Manager
Dynamic Group Number Assignment (DGNA)

Radio Stun

Remote service access (VPN)
Expandable to additional sites with DIMETRA MTS1, MTS2 or MTS4 Base Stations using Ethernet IP network site links
2000+ subscribers
Physical Dimensions [HxDxW] :

MTS1: 0.597m x 0.206m x 0.263m

MTS2: 0.61m x 0.48m x 0.45m

MTS4: 1.43m x 0.57m x 0.55m

Express Server: 0.079m x 0.175m x 0.260m
Weight

MTS1: 25.5 Kg (excluding mounting bracket and Express Server)

MTS2: Approx. 45 Kg

MTS4: Approx. 148 Kg

Express Server: Approx. 3.8 Kg

Dual and Triple Receiver Diversity options (MTS1 Dual Diversity only)
Hybrid Combiner
Auto Tune Cavity Combiner: MTS4 only
Wide frequency range:
MTS1, MTS2, MTS4: 350-470 MHz
MTS2, MTS4: 350-470 MHz and 806-870 MHz
Receiver sensitivity:

MTS2, MTS4 350-470 MHz: -120 dBm typical (static at 4% BER) -113.5 dBm typical (faded at 4% BER)

MTS2, MTS4 806-870 MHz: -119.5 dBm typical (static at 4% BER) -113 dBm typical (faded at 4% BER)

MTS1 350-470 MHZ: -119.5 dBm typical (static at 4% BER) -113 dBm typical (faded at 4% BER)

Operating bandwidth: 5 MHz
Transmit power: 5 Watt to 40 Watt (configurable),
(MTS1 1 Watt to 10 Watt – configurable)
Temperature range: -30 to +60C (MTS1 -30 to +55C)
Input power:

MTS1, MTS2 and MTS4: 100/115/230V AC, 50/60 Hz, or 48V DC Express Server: 100-240V AC, 50/60 Hz (external power adapter) or 6V to 36V DC

Power consumption:

MTS1: 75 Watt to 100 Watt

MTS2: 450 Watt maximum when fully equipped

MTS4: 1100 Watt maximum when fully equipped

Express Server: 60 Watt maximum consumption

Top cable entry and bottom to top cooling airflow allows the cabinet to be placed up against a wall or neighbouring equipment, saving additional space (MTS2 and MTS4 only)
Full front access and top cable entry for easy maintenance (MTS2 and MTS4 only)
Remote transmit antenna monitoring as standard for improved availability
MTS1 outdoor sealing kit option
Security Update Service