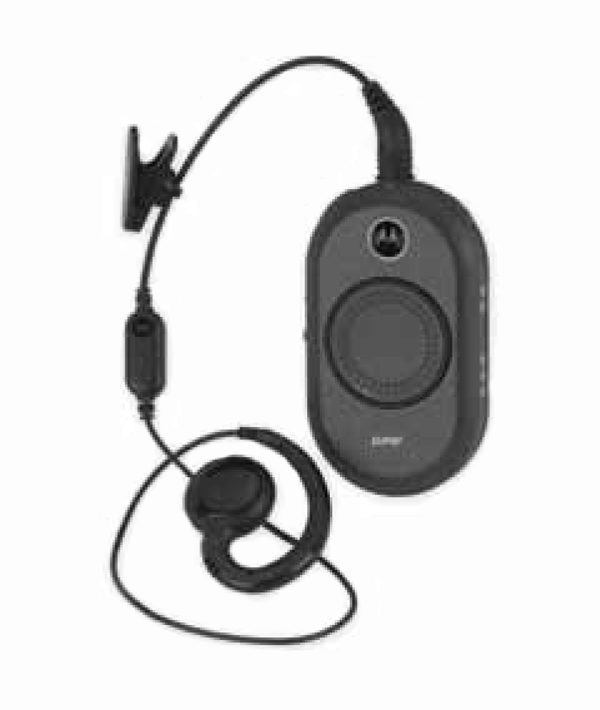 Checking in guests or checking on store inventory, you want discreet but durable devices to keep your people continuously and comfortably connected. The Motorola CLP Two-Way Radio delivers all that and more – with its small size, lightweight design, easy push-to-talk button, crystal-clear audio and comfortable earpieces. Now your teams can connect instantly and respond quickly to address customer requests and enhance customer service.
SIMPLE AND SLEEK
From the kitchen to the stockroom, our CLP compact radio combines exceptional performance with stylish portability. It's small, light and simple to use, with an oversized push-to-talk button that is easy to access. Plus a Smart Status Glow light that turns a color to indicate channel, transmit and receive, scan and battery status. And with an embedded antenna, there is nothing external to add bulk or get in the way.
STRONG, CLEAR AUDIO
The Motorola CLP radio makes communicating a breeze in noisy environments – whether your teams are connecting in a busy restaurant, hotel or retail store. And with a variety of comfortable, unobtrusive earpieces, you can be sure conversations are private and discreet.
Download Datasheet
THE BASIC PACKAGE INCLUDES
Radio
Battery
Belt Clip
Ear Piece
Single Unit Charger
Accessories available, call us on +44 (0) 1224 775717
CONTACT US
DAY-IN, DAY-OUT DURABLE
With an innovative and durable design created specifically for retail, hospitality and restaurant environments,
CLP can stand up to your busiest days and heaviest uses. CLP's tough polycarbonate housings contain built-in anti-microbial* properties that inhibit the growth of bacteria and mold on the radio surfaces. CLP standard Li-Ion battery that can provide up to 9 hours of talk time, making the CLP the ideal communication tool for long shifts.
PERSONALISE AND CUSTOMISE
CLP offers plenty of versatility for your staff and your business. Wear CLP on a magnetic clip or belt to complement any wardrobe or uniform. Customise radio settings with Motorola Customer Programming Software (CPS) and choose models with optional Bluetooth® capability. Even add a repeater as your coverage needs grow in the future**.
* The antimicrobial properties do not protect users or others against bacteria, viruses, germs, or other disease organisms. Always clean this product thoroughly before and after each use. Does not apply to accessories.


** Subject to country type, approval and license requirements.
Standard Li-Ion Battery BT60 or High Quality Li-Ion Battery BT90
Radio Dimensions : 3.5 x 2.0 x 0.75 inches
Weight: CP107 & CP117 with Standard Battery – 67.5g / CP107 & CP117 with High Capacity Battery: 85.3g
Frequency Band: UHF 450-470
Frequency Range: Unit to Unit 100k Sq.Ft / 10 Floors
Channels Capacity: CP107 – 4 / CP117 – 6
Channel Bandwith: 12.5kHz/25.0 kHz
PL Codes: 39std + 6 custom
DPL Codes : 84 std + 84 inverted + 6 custom
RF Output: High – 1.0 Watts / Low – 0.5 Watts
Frequency Stability: <2.5 ppm
Audio Distortion: <2%
Audio Frequency Response (0.3 – 3.0kHz): +1 to -3 dB
Receiver Sensitivity (12dB SINAD) -122 dBm (0.18uV)
Operating Temperature: -30°C to + 60°C (Radio)